"Missie's Miracle"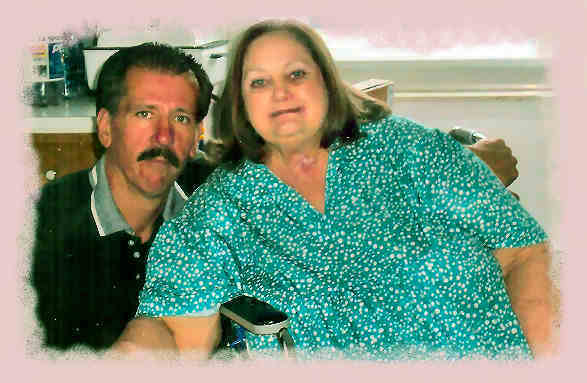 Missie and her "angel/nephew," Jerry Lee Grubbs
This is my Testimony.
I would like to share my story of a miracle. Years ago I was blessed with a good job at Ford Motor Company. This meant so much to me; because after years of struggling to get by, I could securely provide for my family. I worked in the glass plant installing windshields into vehicles.
No one knew at the time that inhaling the asbestos from the glass would cause my lungs to harden and that I would have breathing problems years later that put me into a struggle for my life. First it started with asthma. Then I developed COPD (Chronic Obstructive Pulmonary Disease) which eventually resulted in having to live with a ventilator about three and a half years ago.
Click on picture for enlargement
(COPD is the fourth-leading cause of death in the United States. COPD is a lung condition that makes it more and more difficult to breathe.)
I was bedridden with a machine to keep me alive; this meant I could no longer enjoy the privilege of what meant so much to me—attending church services and singing for the Lord. I could no longer sing. My voice had become silent. I am so thankful for the help and support of my children, Paula, Lena, Pam and Dwayne, also my two grandchilren, April and Brent, who took care of me when I came home from the hospital.
I did get to enjoy the church services from my hospital bed at home, because April brought video tapes of the church services. They were such a blessing to me while I was shut-in, because I could enjoy having a part of my life that I had loved so much; but it was not the same as being in church.
One day as I was watching one of the tapes, my brother, Rev. Jerry Grubbs, who is my pastor, looked into the camera and said, "Missie, the Lord will help you to get out of that bed; I really believe that." Then little by little, I began to have hope that one day I would be able to have the trach removed.
Then last year, when the Lord knew I was ready, He sent me an angel to stand next to my bed with his strong arms and hands to guide me out of the hospital bed and off life support. The angel that the Lord sent me was my nephew, Jerry Lee Grubbs. He was always there, even after working twelve-hour shifts or more. He would still be beside my bed with his arms out-stretched to guide me with his love which helped bring me to where I am today. It was Jerry Lee's sacrificial efforts and all the prayers, encouragement and love of my family and friends that brought me to this point.
Day of Victory! On July 12, 2006 the life support system was disconnected; the trach removed and I again had mobility after being on the ventilator leash for more than three years!
On Sunday, July 30, I walked through my church doors and praised the Lord with a song. My voice had returned! The hole in my neck is almost closed—The Lord has healed me!
I can now sing and lift up my arms to praise the Lord for the miracle He has given me and my family. I am proof that miracles do happen.
I want to thank Wilma Mays and each and everyone, the list too long to name them all, for your prayers, love and encouragement they have given me. It is with great expectation that I now face the future after being on life support without hope. All because of our wonderful Lord and the precious people He put in my life.
God Bless all of you!
..................Levenda (Missie) Callalhan..................