Missie was the fifth child of founding pastor of Faith Tabernacle Church of God (the "baby" of the family). This page remembers Missie's life in honor of her parents who provided the spiritual home for their family at Faith Tabernacle. Our Memorial Page to Rev. and Mrs. Paul Grubbs tells the story of the founding and ensuing history of the church. More information can be found on About Us Page also. This page, however, is primarily about Missie, whose life touched so many others in spite of the difficult physical problems she suffered.
An account of Missie's healing and freedom from the breathing machine which she had to depend on to keep her alive for many years is located at Missie's Miracle page. Before her confinement to breathing equipment, you would see Missie coming in the church door pushing a carrier for her portable oxygen tank. She loved coming to church even though it was arduous for her.
Today, April 23, 2007, was Missie's funeral. An overflow crowd was present to bid Missie farewell "Until we meet again."
Missie's brother, Rev. Jerry P. Grubbs, present pastor at Faith Tabernacle, officiated. His wife, Lorinda; Missie's sister, Gloria; and Missie's nieces and nephews provided the music and singing. Her brother-in-law, Rev. Fred Cornelius (husband of Mary), gave the obituary and prayer. Her belowed nephew, Jerry Lee Grubbs, gave a touching eulogy. (Their special relationship is shared on Missie's Miracle page.)
Missie and her children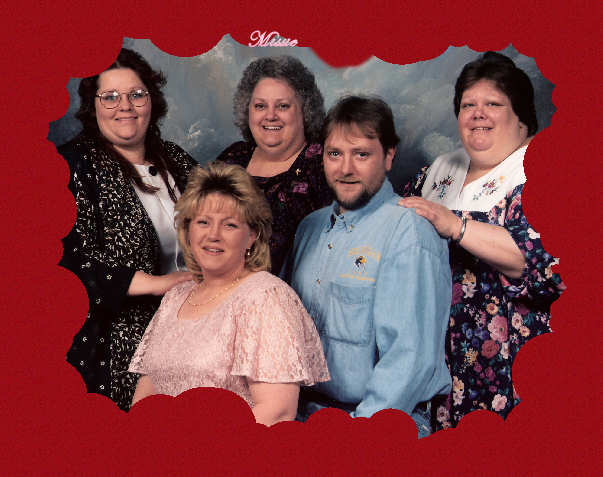 Pam,Lenna, Missie, Dwayne, Paula
Missie's Family is Growing
Missie, her children and grandchildren
Missie
Young and Beautiful
Poem For Missie
By Her Sister, Mary
She never met a stranger, so cordial and kind.
How can we live without you, Sister?
Sweet rest now you will find
Surrounded by angels, safely in the arms of God.
Until that day God calls us Home,
Our love for you will never die.
After you've been there ten thousand years,
A million. maybe two,
Look for me for I will be there too!
Love, Mary
Poem For Missie
By Her Cousin, Beth

Missie

You never wore a Beauty Queen's crown,
Or had your name up in lights.
You never craved power or prestige,
You were never rich and you never sat with Kings or Princes.
You never led a march on Washington
Or had dinner with the President.
To the world you were just an average person,
But to those who knew you well,
They knew that you were very special,
And so much more than average.
Although you had your share of troubles, heartaches,
Disappointments, sickness and grief,
You took the time to love.
That love was extended beyond your immediate family,
It was given to anyone who ever spoke to you.
You gave much more than money could buy,
You gave yourself and it was truly genuine.
Anything you had, be it small or great, you shared.
You never condemned, made fun of,
Or treated people like outcasts,
No matter how old or how young they were.
It didn't matter what kind of shape they were in,
Or what kind of struggles
Or mistakes they had made in their own lives.
You treated everyone with respect
And your love was unconditional.
The world doesn't know it;
But it lost a very important person.
That Beauty Queen's crown you never got to wear,
Is now a crown of life.
That march you never made on Washington,
Is now on Streets of Gold.
And the kings you never sat with
Is now the King of Kings.
It's so ironic that your nickname was Miss,
Because each and everyone of us…
Will Miss you.
'Till we meet again in Heaven,
Love Always,
~~ Beth ~~
By Her Niece, Connie
Everybody loved Aunt Missie !!
Never was there a friend so faithful and true.
She was our very own Coal Miner's Daughter,
and she could sing it better than Loretta Lynn.

She was cheerful, friendly, an encourager, a defender,and a prayer warrior.
If you laughed, she laughed with you.
If you cried, she cried with you.
When you rejoiced, she rejoiced!

I loved to go to Missis's house when I was a teenager. She gave
manicures, pedicures, facials, shaped unruly eyebrows, and gave head
massages. Then she told you how beautiful you were.

Her house was a refuge for all and she was our family life line.
She kept us all connected, and in turn she saw the world through us.
We shared with her about what we had done and the places we visited.

Her smile was priceless and her hugs were tender. She would clap her
hands and rub them together when the great nieces and nephews would visit

and they KNEW what that meant! She would grab them up in her arms and
kiss their whole face.

She loved ceramics and crafts and ornaments. We still have the ornaments
she made for our children's first Christmas. She also made sure all the kids
had a copy of Conway Twitty and the Twitty Birds Christmas songs.

Her loss leaves a terrible void in the family, but she would want us to be
happy and be ready to meet her again in that wonderful Heavenly reunion.

I love you Aunt Missie,
Connie
"I Wish You Were Here"
by the Kingsmen

I can just see them walking on the shores of heaven
praising the lord and watching the tide roll in
friends that have gone on
oh, how I miss you so
and somehow I know if you could that you'd let me know
that you're doing fine and it doesn't hurt anymore
things couldn't be better that heaven is worth waiting for
that you miss me to and til then you'll be praying for me
and I know if you could talk to me now
than here's what you'd say to me…

Chorus

Wish you were here
it's such a beautiful place
wish you were here
nothing but clear sunny days
well it never rains
and no one complains
and we haven't seen a tear
we're having a great time
wish you were here...

I can just see them walking on the shores together
there talking with Jesus safe and secure in his love
friends and loved ones
walking in heavenly peace
and I know if they could talk to me now
then here's what they'd say to me…

Chorus

Wish you were here
it's such a beautiful place
wish you were here
nothing but clear sunny days
well it never rains
and no one complains
and we haven't seen a tear
we're having a great time
wish you were here...
well it never rains
and no one complains
and we haven't seen a tear
oh, we're having a great time
and we wish you were here

You have been gone a year now,
and we all still miss you, "Miss"!

April 20, 2008
"Wherein ye greatly rejoice, though now for a season, if need be, ye are in heaviness through manifold temptations: That the trial of your faith, being much more precious than of gold that perisheth, though it be tried with fire, might be found unto praise and honor and glory at the appearing of Jesus Christ: Whom having not seen, ye love; in whom though now ye see him not, yet believing, ye rejoice with joy, unspeakable, and full of glory: Receiving the end of your faith even the salvation of your souls" (1 Peter 1:6-9)




The song playing on this page was the song Missie sang most often when she was able to sing in church


God On The Mountain
Verse 1
Life is easy, when you're up on the mountain
And you've got peace of mind
Like you've never known
But then things change and your down in the valley
Don't lose hope for your never alone
[Chorus]
For the God on the mountain is still God in the valley
When things go wrong He'll make them right
And the God of the good times, is still God of the bad times
And the God of the day is still God of the night
Verse 2
You talk of faith when you're up on the mountain
Oh, but the talk comes so easy
When life's at its best
But its down in the valley of trials and temptations
That's where faith is really put to the test

And the God of the day is still God of the night




January 4, 1961 - March 18, 2011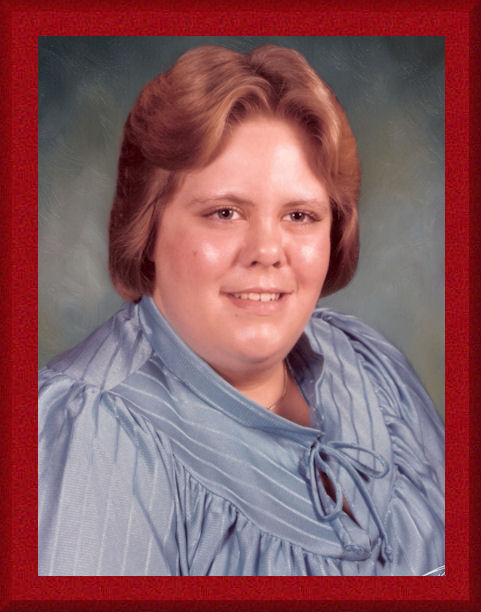 Eulogy for Paula
We are here today to celebrate the life of Paula Star Grubbs. Paula was a daughter, sister, sister-in-law, granddaughter, cousin, aunt and friend; but her greatest joy was being "Mom" to her daughter, April; and April was a loyal daughter devoting her life to the care of her Mom.
When the Grubbs family children, Ina, Gloria (Mam), Jerry and Missie were raising their families, we were always together for special occasions, holidays, birthdays, picnics and vacations. We had so much fun and enjoyed life together. Paula loved life. Once in Gatlinburg, Tennessee (our family's favorite gathering place away from home) at the Mountain House, there had been a bear on the property that day. Later Paula was down at the concession area getting a pop, and Kevin Walden saw her go in so he hid by a car and waited for her. When she got close he jumped out and growled, and all Paula could do was run in place and shake her arms! She was always a good sport and loved to laugh.
Paula loved the church and her church family, and they loved her in return. It was proven by the steady stream of friends paying their respects at the funeral home and those attending her service. Paula's health problems had prevented her from leaving her house, and she was in and out of the hospital; but she still pressed on. No matter what our difficulty is it doesn't compare to the joy that awaits us in Heaven!
(2 Corinthians 4:17-18) "For our light affliction, which is but for a moment, worketh for us a far more exceeding and eternal weight of glory; While we look not at the things which are seen, but at the things which are not seen, for the things which are seen are temporal, but the things which are not seen are eternal."
Paula has completed her journey and is rejoicing in Heaven. We are still on our way. I think Paula would like to be remembered like this poem:
Afterglow
I'd like the memory of me to be a happy one;
I'd like to leave an afterglow of smiles when life is done.
I'd like to leave an echo whispering softly down the ways,
Of happy times of laughing times and bright and sunny days.
I'd like the tears of those who grieve o dry before the sun
Of happy memories that I leave when life is done.
Eulogy by Connie Lynn (Cornelius) Philbeck
Paula's Cousin
Paula Star Grubbs
January 4, 1961 – March 18, 2011
You will be missed, Paula!