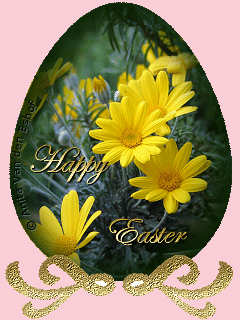 Happy Easter!
From
Faith Tabernacle Church of God
Our prayer for you and your family is that this will be a blessed and glorious time of remembrance of the completed work of our Lord Jesus Christ for our salvation.
It began in a stable (perhaps a cave) when a young virgin named Mary gave miraculous birth to a baby boy whom she named "Jesus."
After a perfect life of fulfilling His Father's will on earth for about thirty-three years, Jesus' story continued with betrayal by Judas, a friend, who was planning his evil deed even as they sat around the Passover table. Jesus shared the meal with Judas and even washed his feet.
The betrayal led to an illegal trial before Pilate where He was found "guilty" - guilty of "Love in the First Degree."
After a verdict of "guilty" Jesus was subjected to an unspeakably painful flagellation. But this was not without significance, because it was for us. "By His stripes we were healed!"
To add insult to injury, Jesus was then required to bear His own cross on his wounded back to the Calvary, the place of crucifixion.
Jesus' broken hearted followers' dreams and hopes of a Redeemer were dashed to pieces at the foot of His cross. Most of them were in hiding fearful for their own lives. What began in a stable about thirty-three years previously, ended on a bloody cross.
Ended? NO! NO!
It was a beginning, not an ending! Those who thought it would end at the tomb of Jesus were badly mistaken. They were not listening when He declared that after three days He would rise again! And He did!
Not only did He arise from the dead, He now occupies the ultra-high place of honor at the right hand of His Father. He is making intercession on our behalf. As we look to His glorified position of authority, we see His death was all planned by God from the foundation of the world for our Eternal Redemption.
Glory to God in the Highest!!
Hallelujah! He is alive now and forever.
Because He lives, we too shall live with Him - forever!
Celebrate the Resurrection of Jesus by giving Him your heart and following Him in daily commitment until He fulfills His promise to return for us.

We, at Faith Tabernacle Church of God, invite you to worship with us as we celebrate this wonderful season of the resurrection of our Lord.
If you would like to vist the rest of our website, click below.

You can sign our Guest Book by clicking below.

The Youth have a new page for 2007. Pictures from their exciting trip to Smoky Mountain Winterfest and other pictures of their activities are on this page.
Click here: Youth 2007
Easter Blessings!
From Pastor Jerry and Lorinda
Navigation to the rest of our web site
Click "Next" or here for Memorial Page for Levenda, "Missie," Daughter of Founding pastor, Rev. Paul & Verbel Grubbs, and sister of current pastor, Rev. Jerry Grubbs
Copyright Faith Tabernacle Church of God