Please be patient while page loads; lots of pictures!
Tuesday Evening Pot Luck Fellowship
More Candid Shots of Tuesday Evening (July)
Some of the Volunteer Cleaning Crew
~~January~~
~~February~~
Sister Lorinda has a birthday!
~~April~~
Time for coffee & donuts before morning worship
~~May~~
Faith Tabernacle Mothers
~~June~~
Faith Tabernacle's Fathers
Pastor JerryPastor Receiving Father's Day gift from church by Jerry Jacobs
Pastor Jerry & Sister Lorinda's 51st Wedding Anniversary
~~July~~
See Youth Page for Camp Pictures
~~August~~
Some of the folks got their heads together and prepared an impromptu after-church snack on Sunday evening August 23. A good time of fellowship was mixed with sandwiches, pizza, ice cream and other goodies.
~~September~~
Baptizing September 11
Musicians and Fellowship After Baptizing
~~October~~
Sunday, October 31, was set aside as Pastor Appreciation Day for Pastor Jerry and Sister Lorinda. Youth leader Karen Jacobs made all arrangements and did a fabulous job organizing and executing all necessary arrangements, collecting materials, decorating, etc. We salute her for the beautiful job and smooth operation of all of the day's events. Karen had a lot of help from the men, women and youth of the church in making the fellowship hall beautiful, preparing food, running errands and cleaning up.
Thanks to everyone who had a part in making the day special! God bless you!
A special thanks to Bro. Myerl Baker, Sunday School Superintendent, for acting as "Emcee" and just filling in where he was needed.
Click on pictures to enlarge
Rev. Jay Walden was guest speaker. He and his family blessed the church with their many talents.
The congregation joined Pastor Jerry and Sister Lorinda and guest minister's family in the fellowship hall for a wonderful dinner. Visitation continued through the afternoon.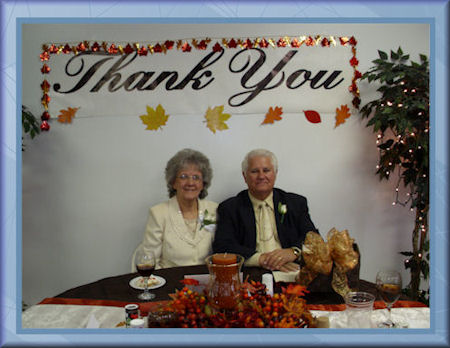 Thank You, Pastor Jerry & Sister Lorinda!
Many of our church family met at Big Bear Lodge at Brownstown Township for a luncheon and a great time of fellowship Friday afternoon on December 17. Karen Jacobs coordinated the event, and as usual did an outstanding job. The food was served by a congenial and efficient staff and was delicious.
Karen had several wrapped gifts and drew numbers to see who would receive them. We couldn't get too attached to the gift, because the next number drawn might decide they want your gift instead of choosing one for themselves. The funniest gift was the "animated" Santa hat that got passed around several times until Gloria Wright ended up with it finally.
After the meal, we had a cookie exchange and were able to come home with a good stash of assorted cookies.
It was a delightful occasion filled with good food, fun and fellowship. But then, the Faith Tabernacle folks always love to get together and look for any excuse to do so!
Click on pictures to enlarge.
Youth leaders Ken and Karen outdid themselves with the beautiful props and settings for the Christmas Program. A standing-room-only crowd was present to enjoy the youth and children's performance which was outstanding. The costumes were created by Karen with help of a lot of sewing by Sister Lorinda and the help of many others. Pastor Jerry spent time in his work shop making props and helping to install them on the stage. Pastor Jerry, Sister Lorinda, Ken and Karen greatly appreciate all those who came out and worked for days ahead of the program preparing everything and decorating. The pictures do not do justice to the performances, but we hope you will enjoy viewing them.
Click on pictures to enlarge.
The Staff
More pictures of the program
Getting ready. The ladies room and fellowship hall served as dressing rooms and parents were helpful in the preparations. Our thanks to everyone who assisted.
We were pleased to have a full house to enjoy the program. It appeared that every youth and child had parents and friends who came to support their involvement as well as our church folks.
After the play everyone enjoyed a nice "snack." The tables were loaded with food that the church ladies prepared. It was a time of good food and fellowship.