Faith Tabernacle Church of God
Lincoln Park, Michigan

What's Happening with Our Youth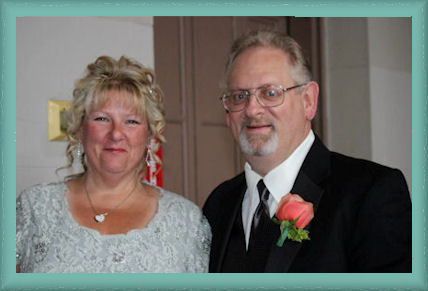 Karen and Ken Jacobs, Youth Leaders
Our youth meet each Wednesday evening at 6:30. They check in at the fellowship hall and get their attendance and bring-a-friend tokens; the junior-age kids get a name tag. Then they are free to play games until time for class to begin. Youth Pastor Ken, Sister Karen and Sister Lorinda lead them in prayer, singing and a lesson per age group.
After lessons, they go to the fellowship hall for a snack, crafts and Bible games where they earn tokens. Next they go back to the sanctuary for closing exercises and return to the fellowship hall and "spend" their tokens for things to take home.
**Index for This Youth Page**


What Happened with youth in previous years?
**Current Youth Activities**
(Click on pictures to enlarge)


Pastor Jerry's Birthday Celebrated by the Youth
Pastor Jerry's birthday is January 16, so the Wednesday night youth honored him with their handmade crafts. Craft coordinator, Lisa Barefoot, had prepared the night's craft around the event. Each youth designed a "tie" for the birthday poster to be presented to Pastor Jerry. More pictures are below in the "Craft Time" section
Pastor Jerry wearing one of the (paper) ties




The last Wednesday in January, craft time was spend making a poster-size birthday card for Sister Lorinda's February 2 birthday. Sister Lisa Barefoot assisted in creating the card which was presented to Sister Lorinda in the Sanctuary after lessons. Ciera and Alyssa presented the card and the class sang "Happy Birthday" to honor their teacher.
(See "Craft Time" for more pictures of the card.)




After sign-in in the fellowship hall and a free time of play and visiting, everyone goes to the sanctuary for lessons lead by Sister Lorinda Grubbs and/or youth leaders Brother Kenny and Karen Jacobs. They begin with a time of singing, prayer and then classes.




In the fellowship hall snacks are ready, waiting for arrival of kids after the lesson in the sanctuary.
After snacks, it's time for Crafts


After lessons and snacks, it's time for a craft to take home.
Sister Lisa Barefoot supervises Craft Time with Sister Lorinda and other helpers assist in preparing a craft they can take home. Lisa's husband, Wayne, is one of our photographers of activities and crafts the kids make. Brother Myerl Baker is another photographer.
(Click on picture to enlarge)
Take-Home Crafts
This (above) was a "joint-effort" craft. All the kids worked on it writing notes and drawing images to demonstrate that each of them was a "Friend of God" (a song they often sing).




There are always a few minutes of free time before lessons, and the youth play games and visit with each other until called to the sanctuary to begin lessons. After lesson and snacks, it's time to make the rounds at the Bible-Game Tables to earn tokens to spend at the "store."
Warming Up Before Lessons
Bible-Game Tables
Spending Tokens Earned at Bible Game Tables




Youth leader, Karen, has reactivated the Drama Team including all ages. In spite of the inches of snow and dangerous icy roads, a few of the participants came to church Sunday morning (February 22) to initiate the for performance of the new team. The practices are usually on Wednesday night at regular youth meeting. Many of our youth come on their own, without parents who don't attend our church. We were pleased to see some of those parents in attendance to support their kids Sunday morning.




The Drama Team was present at the Sunday evening service, March 23, when Rev. Donnie Hill visited and ministered. They did a wonderful job of dramatizing the crucifixion and resurrection of Jesus and singing in their choir. We were very proud of all of them.Fall Festival




Youth Leaders, Ken and Karen did a tremendous job producing the Harvest Festival. We have a full-capacity crowd! The fellowship hall was decorated with a fall theme with game stations where the players earned tokens they could "spend at the store" where food, candies, etc. were set up. They could "fish at the fish pond" for prizes. Activities were well organized and a dining area was provided where Mexican food and other foods could be eaten.
The program began with a lesson from Ken and Karen with the theme of "Doors." The children and grownups joined the group for the presentation as they were told that Jesus wanted to enter the door of their heats. At the conclusion of the lesson, 25 children raised their hands that they had asked Jesus to come into their hearts. The church appreciates all the efforts Ken and Karen put into this exciting activity, and especially we are so pleased with the children's response.
Click on picture to enlarge


@ Faith Tabernacle 2015